American Girl Doll Clothes Handmade Clothing Baby Accessories Dresses
Welcome to Dolly-Duds! On January 11th our website suffered a catastrophic failure. We're in the process of rebuilding and should be back to normal shortly. You may contact us by phone (717-737-8236) or via email - dollydud@aol.com Thanks for your patience.
Dolly-Duds specializes in beautiful doll clothing and accessories for your 15 inch and 18 inch dolls . Every one of Dolly-Duds' outfits is designed and handmade with love from quality materials to fit your Bitty Baby®, Bitty Baby Twins®, 15 inch Boy doll, American Girl® or other 15 inch and 18 inch dolls. Each dress or costume can be matched with a perfect accessory . Go to our baby page to look for matching twin sets.
Prints are not guaranteed due to availability but you can always choose the colors that suit you and your special doll. The clothes are handmade and of very fine quality. Dolly-duds also carries accessories, footwear, coats, jackets, shoes, boots, underwear and more. See our schedule of shows on the 2015 EVENTS tab.
Click on the categories at the left of our web site to see our beautiful collection! Throughout the web site, click on the photos to view a larger image.

Baby & Twin Outfits

Specialties

Sports & Outerwear

Dresses

SEE OUR JANUARY SALE PAGE


Vintage

Sleepwear

Quilt Sets


Play Clothes

Accessories
---
The Dolly-duds Crew: Janet, Judy, Edd & Angela
Distinctive hair bows for babies, girls and their dolls.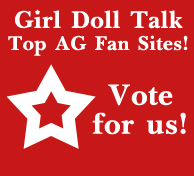 also visit
---
Buy online securely with any
major credit card through PayPal!